TDI Residential Plots in TDI City Mohali SEC 117 @9914311110 - S.A.S. Nagar
Saturday, 3 March 2012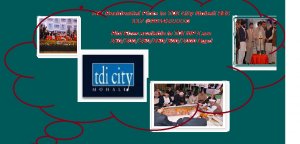 Item details
City:
S.A.S. Nagar, Punjab
Contacts

abhinav arora

9815969626
Item description
Plot Sizes available in TDI MP-I are 150/200/250/350/500/1000 Sqyd
About TDI:
An ISO 9001:2008 company, TDI is known to have represented the elements of urban living through its consistent journey of over two decades. With a consistent track record of timely completion and standard-quality construction, the company has developed integrated townships and commercial complexes in various locations of North India. TDI's ability to meet the special requirements of the real estate market and clients stems from its strong foundations of professionalism. Every project that bears the TDI signature stands out from the rest, in terms of design aesthetics and global standards of construction. The company's passion for exceeding industry benchmarks is evident in its ability to redefine value engineering, project after project - reinforcing the best of conceptual innovation and cutting-edge construction technologies.
TDI Mohali Project:
After an overwhelming response from TDI City-I, TDI has launched yet another integrated township – TDI City-II. Strategically located on Sectors 110 & 111, on the main Landran-Banur road, TDI City offers plots of various sizes along with beautifully designed villas and luxury apartments. Spread over an area of 150 acres, approx, the township would be embellished with state-of-the-art malls, multiplex and best-in-class facilities such as a healthcare centers, primary and secondary schools, round-the-clock security, recreation centers, commercial offices and a hotel. A well-planned and an ultra-modern dream township, TDI city-II, Mohali would feature world-class facilities such as wide & well-lit metal roads, inter-flowing green space and beautiful landscaping. A sizeable commercial project of 10 acres, approx is also being planned within the city. The approach road too is going through a process of expansion.
Development Highlights:
After the stunning success of TDI City Mohali I, TDI has started the development of its another premium upcoming City on Landran Banur Road, Sec 110 & 111 in Mohali. The- state – of – the- art construction with basic infrastructure and facilities in place, TDI City is ready with its major project development updates.
Possession of 60 My Floors on Card.
Beautifully landscaped parks ready.
Over Head Water tank
Basic services like water supply, sewerage and drainages laid in the city.
TDI Mohali Convenient Location:
Conveniently located on the Main Landran-Banur Road near the well-known Chandigarh Engineering College, TDI City, Mohali, Phase II has the potential to become a landmark for the city of Mohali, setting a new benchmark for excellence.
Thanks & Regards
ABHINAV ARORA: 9815969626
Disclaimer:- Any content mentioned in the mail is for information purpose only and does not constitute any offer or guarantee whatsoever on the content mentioned above. Prices are subject to change without notice. It is solely your responsibility to evaluate the accuracy, completeness and usefulness of all opinions, advice, services, merchandise and other information provided and you are strongly advised to check these independently. HOME WORKS shall not be liable for any deficiency in service by the builders/developers/sellers/property agents
•In sector 117, fully paid plot is in the range of 15,550/- to 26,000/- per square yard (including all charges like EDC/PLC etc) depending upon the location of the plot.
•In sector 118, fully paid plot is in the range of 23,650/- to 32,000/- per square yard (including all charges like EDC/PLC etc) depending upon the location of the plot.